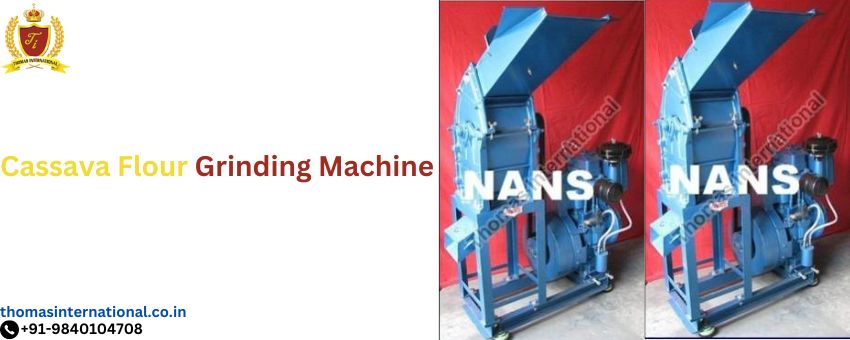 Innovation is the keystone that drives culinary endeavors forward in the field of food processing. The selection of the best cassava flour grinding machine manufacturer is crucial for those working in the cassava flour industry. This choice affects your venture's overall success as well as the effectiveness and quality of the end output. In this article, we will examine the crucial criteria to take into account when choosing the right cassava flour grinding machine manufacturer.
Investigation and Reputation
Any well-informed decision starts with diligent study. Find a reputable Cassava Flour Grinding machine supplier by conducting web searches, consulting business directories, and asking for recommendations. Investigate each person's reputation in greater detail after compiling a list. Look for manufacturers who have a history of excellence, dependability, and satisfied clients. Online evaluations and testimonies from other producers of cassava flour might give important information about the manufacturer's performance.
Knowledge and Skills
Experience is important in the manufacturing of a Cassava Flour Grinding machine. Look for producers who have a track record of creating cassava flour grinding equipment. Their knowledge demonstrates their dedication to innovation and their comprehension of the particular requirements of cassava flour producers.
Product Quality
The cassava flour mill's quality has a direct bearing on the quality of the final product. Evaluate the commitment of the producer to precise engineering. The equipment should be built to provide uniform particle size, constant grinding, and less waste. Ask what kind of materials were used in the building; long-lasting, corrosion-resistant materials like stainless steel are desired.
Choices for Customization
Both the specifications and the producers of cassava flour differ from one another. To make the grinding machine fit your unique requirements, look for a manufacturer that offers customization choices. This could involve making changes to capacity, speed, or even certain characteristics that improve the productivity of your production process.
Technological Progress
The manufacture of machinery is characterized by ongoing technological breakthroughs. Observe characteristics like automation, user-friendly design, and energy efficiency. Modern technologically advanced machines not only increase efficiency but also result in lower costs and higher-quality output.
After-Sale Assistance
After you buy a cassava flour mill, your relationship with the manufacturer doesn't stop. A key component of the relationship between a manufacturer and a customer is after-sales support. Ask about the warranty terms, replacement part availability, and technical support services offered by the manufacturer.
Productivity and Yield
The foundation of any production process is efficiency. Analyze the output, energy use, and yield of the cassava flour mill to determine its efficiency. Your production capacity will rise, and a high-efficiency machine will also help you save money.
Worldwide Presence
A producer of cassava flour mills with a global footprint frequently denotes their acceptance and dependability on a global scale. Machine exporters that want to meet a variety of regulatory requirements go through extensive quality control procedures.
Industry Acceptance
An excellent manufacturer will have received certifications and honors from the industry. Seek out manufacturers of cassava flour mills who have obtained certifications pertaining to machine quality, safety, and environmental regulations. Awards and honors provide as additional evidence of their commitment to innovation and sector leadership.
A crucial choice that affects your production journey is selecting the best manufacturer of cassava flour grinding equipment. This decision concerns cooperation that will improve the carob flour business's quality, effectiveness, and profitability, not just the machinery. You lay the road for a culinary effort that stands out in both quality and originality with thorough study and a strong eye for excellence.